Loretto Alumnae Association Proudly Presents
Order of Mary Ward Tribute Celebration
Join us to honour this years' recipients!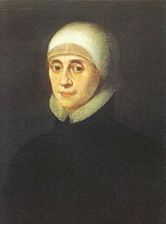 Every year we bestow a prestigious award, named in honour of the foundress of the IBVM to individuals who best embody Mary Ward's vision and assertion that "I hope in God it will be seen that women in time to come will do much". The Award is conferred upon those who display those qualities most admired by Mary Ward – joy, freedom, love of the poor and a desire for justice. Recipients are also individuals who demonstrate a significant contribution to society through spiritual, academic, creative and social gifts. Moreover, the recipients are positive role models who will continue to inspire and challenge today's young women.
Join us for the Order of Mary Ward Tribute Celebration on Sunday, October 2, 2016. Catch up with your classmates, teachers and the Loretto Sisters and enjoy the recently restored chapel as we honour this years' recipients - to be announced.
Enjoy light refreshments after the event.
This is an open event for the Alumnae, family and friends of Loretto Abbey and Loretto Brunswick. Spouses, children, aunts, cousins, mothers, friends, and brothers are also welcome to attend!
Don't keep this to yourself, please share this announcement with fellow Alumnae.

When: Sunday, October 2, 2016

Time: 11 am, with tea/coffee reception to follow
Where: Loretto Abbey Chapel
101 Mason Blvd., Toronto Ontario
Cost: FREE - however a cash donation at the door would be most appreciated!
RSVP: Please register online here and make your donation at the door. Print out your ticket.
Parking: Please do not use the circular drive , as this belongs to the convent. Feel free to park on the street.
For more information: If you require more information, please contact Marisa D'Alessandro by phone at (416) 247-8756.
or email This email address is being protected from spambots. You need JavaScript enabled to view it.